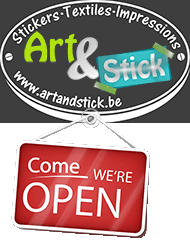 Security and privacy
Art & Stick ensures the security and confidentiality of your data.
Using a connection with occupational certificate, you can be certain that the identity of the site has been validated by a trusted third-party authority. You are therefore certain to connect on the site of Art & Stick.
By using this secure, encrypted connection, data that you use on the site are therefore encrypted and cannot fall into the hands of attackers. Be careful when you use a site without 'HTTPS' because data such as password, is sent to the site without encryption. With Art & Stick, you can be certain that your data will not fall into the wrong hands.
The data you have saved on our site (name, address, email,...) will never be disclosed to other companies or people.
You of course keep the right to delete your data from our database (in this case please contact us).
You can at any time change your data.
None of the data that you would deliver to a company of payment (HiPay, PayPal) only we will be communicated. They remain the property of those companies.
You can see that Art & Stick makes every effort to keep your data safe and make confidential.
| | | | |
| --- | --- | --- | --- |
| | | Delivery | |