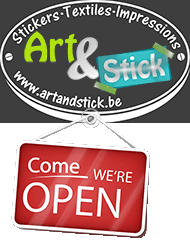 Delivery
Once payment is received and your articles cut, it remains only to make the delivery.
We ship worldwide, and for delivery you can choose between B-POST and UPS STANDARD.
B-POST: B-Post is, in fact, the Belgian post. When sending outside Belgium, the post office in your country will generally take care of the delivery (Colissimo in France). For small packages, you will have the choice between a shipment with tracking and a shipment without tracking. For other packages, only shipment with tracking will be available. We strongly recommend the use of sending with tracking because in case of non receipt of the package, we cannot be held responsible.
In Belgium, B-Post takes on average one day to deliver the package, in France , it takes 3 days, for other countries, please refer to the information available on the B-Post website: www.bpost.be
UPS STANDARD: UPS allows delivery to most countries and regions of the world. Please refer to the UPS website for more information regarding deadlines.
It is possible for an additional fee to ship your package via UPS Express. Please contact us in this case
REM: delays are given for informational and do not take into account the time of realization of your order. Any exceptional circumstances may add additional time to the delivery time (strikes, weather,natural disaster, pandemic, war, rebellion, ...). Art & Stick cannot be held responsible if the delivery time is longer than expected
| | | | |
| --- | --- | --- | --- |
| | | Delivery | |